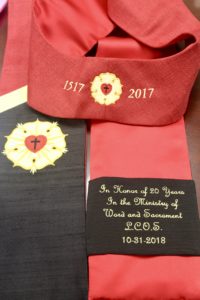 John 8:31-36 "Jesus said to the Jews who had believed in him, "If you continue in my word, you are truly my disciples; 32and you will know the truth, and the truth will make you free."
Dear disciples of Jesus: Grace and peace from God the Father and the Lord Jesus. Amen.
The new disciples felt offended when Jesus told them: you will know the truth, and the truth will make you free."  And of course, or they were lying, or they were ignorant of their own history answering in that way.
Yes, the Israelites where slaves in Egypt and from Egypt God took them from slavery into freedom. Yes, they were slaves, and when Jesus was calling them to discipleship, they were living in an occupied country under Roman rule and they did not have the freedom to make their own decisions. Yes, they needed to be free. So, in what world were these new disciples living? They ignored their own past and they were ignorant of their own present.
They forgot they were slaves in Egypt and they did not want to admit that they were being executed (crucified) as slaves by the Romans when Jesus was preaching to them.
The words of Jesus were considered offensive by these new disciples just because Jesus' words revealed the real condition of the people. Jesus' words exposed their real history and denounced their real present.
Faith is a call and an answer at the same time. Faith is a call to a genuine discipleship, faith is a call to experience life and knowledge of the truth, and faith is an answer to the call.  Faith always invites to open ourselves to the future, but this is an invitation that at the same time challenges our self-understanding and our perception of the world. The disciples of Jesus needed to recognize that they were slaves and that they were living under the Roman occupation if they really wanted to experience the power of God acting in their lives.
Jesus said: Very truly, I tell you, everyone who commits sin is a slave to sin. The words of Jesus continue to challenge the new disciples. Now Jesus is telling them: you are slaves of sin. You need to be free from the slavery of sin. The Gospel cannot be reduced to a political system, ideology, partisan sympathy or theological understanding. Contrary to that, all our political systems, ideologies, partisan sympathies, theological understandings and more should always be under the gospel. The gospel is above political differences, church denomination, cultural backgrounds, ethnic traditions, nationality or color. The gospel is good news that invite people with all these human differences to come together to the table of the Lord and receive there, at the table, real forgiveness of sins and life and salvation. That was exactly what Luther re-discovered during the Reformation, that when you put yourself, your culture, your theology, your politics, your nation, your philosophy under the gospel, the gospel of Jesus can liberate and redeem all what needs to be redeemed and liberated.
And yes, we are free now, but we can only continue free if we remember that before the gospel arrived at our life, before the Lord saved us from our spiritual slavery, we were enslaved by sin and separated from God, from our neighbors and our own destiny as children of God.
Luther wrote in his excellent treaty The Freedom of a Christian the following theses:
The Christian individual is a completely free lord of all, subject to none.
The Christian individual is a completely dutiful servant of all, subject to all.
You can see the paradoxical character of this statement. We are completely free in Christ and at the same time we are completely servants for Christ.
Luther concluded based in the paradoxical character of the Christian freedom that: Christian individuals do not live in themselves but in Christ and their neighbor, or else they are not Christian. They live in Christ through faith and in the neighbor through love. Through faith they are caught up beyond themselves into God; likewise, through love they fall down beneath themselves into the neighbor.
Luther wrote The Freedom of a Christian in 1520. You can see that The Freedom of a Christian was an early document in the Reformation movement written just three years after the 95 theses. It showed the core of Luther´s teaching about justification and good works: we live in Christ through faith and their neighbors through love.
I think this is very relevant for us today. We need to go back in our faith statement of Justification by grace alone through faith and remember the amazing grace of God that creates faith in us and brings salvation through faith. And at the same time, we need to rediscover that our faith is not merely intellectual, but that is always a faith in action. It is faith that needs to be expressed through love for our neighbors.
Brothers and sisters, the message of the Reformation is today this invitation to live the Christian freedom by faith and love. We need a lot to remember this message, our country needs to understand that the way to solve our differences is not hate or intolerance but God´s love. Luther said that we are invited always to talk to each other and to listen to each other. It is time to rediscover this important counsel that is part of our Christian Lutheran heritage -bringing reconciliation, healing and forgiveness- so we can again remember that we are one in Christ and we are invited to serve Christ loving our neighbors, we are invited to practice mutual conversation and consolation.
Happy Reformation Day.
Amen.