Mark 9:38-50.38John said to [Jesus,] "Teacher, we saw someone casting out demons in your name, and we tried to stop him, because he was not following us." 39But Jesus said, "Do not stop him; for no one who does a deed of power in my name will be able soon afterward to speak evil of me. 40Whoever is not against us is for us.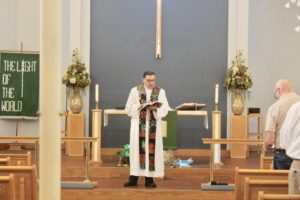 Dear disciples of Jesus: Grace and peace from God the Father and the Lord Jesus. Amen.
Very clear to follow, the gospel today points to the necessity of analyzing -as a community of faith- who is in and who is out and how we treat each other.
Let us see how Jesus addresses these questions.
Who is in and who is out?
The disciples were concerned that somebody that was not a member of Jesus´ church might be practicing exorcisms in Jesus´ name and liberating people in Jesus´ name. In other words, somebody was using Jesus´ brand name to perform miracles and this individual was not a "member" of Jesus´ inner circle. For the disciples that was unacceptable.
In the disciples' own words, they tried to stop him because he was not following us, he was not one of "us", he was not part of our group, our click, our circle, he was not authorized to use the brand name of Jesus´ community of faith. For John and the twelve nobody can use the name of Jesus without their authorization.
I remember something similar happening 23 years ago when I was a vicar in a Lutheran congregation in Lima. When we were commemorating the Reformation Month, one member of the church came to me and told me that a Pentecostal church near her house was announcing a special worship for the Reformation Day using a poster with Martin Luther´s picture. She went into the church and said to the Pentecostal Pastor that that image of Luther was a Lutheran image and nobody outside Lutherans should use it to advertise a Reformation Sunday. This good old sister was trying to protect Luther´s image because she was concerned that Lutherans would be associated with Pentecostal churches.
I asked her: so, Sister, do you want to keep Luther´s legacy only for us?  We are the Lutherans -she answered. I know we are the Lutherans -I said- but I think it is great that other churches are now appreciating the teachings and legacy of Luther, and if a Pentecostal or Catholic church wants to use the image of Luther and study Luther´s teachings, I think this is something we "the Lutherans" can celebrate and be thankful.
I admit that she was not very convinced with my answer, after all I was not a pastor yet, I was only a vicar doing his internship in pastoral formation. But I tried my best.
"Keep Jesus name for the twelve only" was the motto of the disciples! "Keep Luther for the Lutherans only" was the motto of that nice lady. For this reason, Jesus´ answer to John and the twelve is still relevant and challenging today: "Do not stop him; for no one who does a deed of power in my name will be able soon afterward to speak evil of me. 40Whoever is not against us is for us. 
After that important clarification, Jesus moved forward. If the name of Jesus can be used by everybody to liberate, cure, exorcise and save, then the barriers between insiders and outsiders do not exist for Jesus. Everybody that confesses that Jesus is the Lord is welcome, the community is not circumscribed to a specific group, the body of Christ transcends human boundaries. Where two or three gathers in Jesus' name, then Jesus is present.
And if the community is an open community, the people that confess the name of Jesus should behave according to Jesus´s life-style. For this reason, Jesus said to his disciples:
41For truly I tell you, whoever gives you a cup of water to drink because you bear the name of Christ will by no means lose the reward.
Disciples should not be concerned if the name of Jesus is used outside the circle of disciples, all disciples´ priority should be to show that in the name of Jesus love is proclaimed. The real mission of the community is to spread the love of God by loving the most vulnerable and calming their thirst in the name of Jesus. We are here to help. To cure, to liberate, to allow others to reach fullness in the name of Christ, not to put a stumbling block before one of these little ones who believe in Jesus. Faith needs to be proclaimed and lived in a way that other people experience the power of the salvation, and abundance of life in the name of Jesus. The church needs to proclaim this message, incarnate this message and grow in this message. The way to do this is through a life where our actions (hands), vision (eyes) and life-style (feet) are guiding others to experience the fullness of the love of Christ.
The church is a community of love called to proclaim and to live the love of God. We may do it with our hands or eyes. In other words, that means acting as Christians, contemplating the world and our neighbors with the eyes of Jesus, and guiding them to follow the example of life that Jesus showed us.So, we need to always analyze our vision, our actions and our ways. We need to put our actions, vision and ways according to Jesus´ actions, vision and way of life. There are not insiders or outsiders, there are only people that are called to act, see and walk following Jesus´ example.
Observe, analyze and evaluate your actions, vision and ways. Only then, if you need to do radical changes in different areas of your life do not be afraid of doing it. Just do it, just embrace Jesus´ call. You are always an insider, you are not an outsider. For Jesus everybody is in, we just need to believe it and live it accordingly. Let us live our life according to this amazing call, let us see, act and walk according to the incarnate love revealed in the name of Jesus of Nazareth. May God guide our vision, actions and ways. Amen.